Lawn signs are also known as Yard Signs, Realtor signs, Bandit Signs, Road Signs, Street Signs, Advertising Signs, Cheap Signs, Coroplast Signs, Plastic Signs, Election Signs and Campaign Signs.
Advertising Lawn signs: long-lasting promotions that last
Lawn signs have many uses both for businesses and personal uses. They can promote a business, announce deals and draw homebuyers to a home for sale as the purposes are endless. We all have seen how lawn signs are the industry standard for real estate agents and essential to election campaigns when they are placed in strategic locations, each sign can be an invaluable asset to your event or business.
We offer double-sided signs that are easily set in to the lawn or along the road. By adding these signs to the front of your business, work you are performing or have completed, your potential customers are sure to take notice. Whether you're advertising a new product or showing your business name and contact info, lawn signs make a statement that your consumers can't miss. Our corrugated plastic signs are UV resistant and waterproof for years of outdoor use. Once you've decided on an ideal location, you're ready to set up your sign and start catching people's attention. Mounting your sign is simple, you can place it in the ground or fix it to a fence or scaffolding. As with all our signage products, the design process is simple and you can either provide us with your own design or request for a customized design.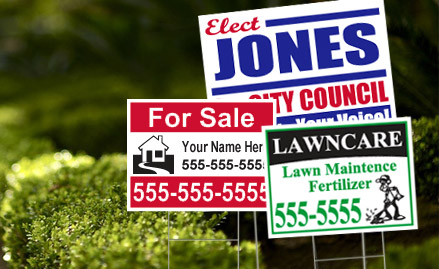 Lawn Signs are an essential and portable visual media for quick outdoor placement of advertisements and messages about your business or special event. They are light weight which makes them easy to move around and install well suited for most weather conditions.
Sturdy and durable
Will withstand the elements
An eye-catching solution for passers-by
Lawn signs provide an ideal solution for exposure for people in construction, roofers, renovators, plumbers, landscaping and real estate.
Lawn signs are great lead generators and the most important factor is to get them exposed in the right places. Having a well prepared follow up system is also key when someone will respond and contact you because they saw your lawn sign advertisement. Lawn signs combined with other forms of print media such as door hangers and online web marketing will only increase the overall effectiveness of your lawn sign campaign.