Mexxus Media Agency is glad to announce its affiliate program that is designed to help loyal and enthusiastic clients monetize their recommendations. Starting immediately, you can earn a substantial commission by referring people to our agency.
As part of the new affiliate program, customers can earn up to $5 for just signing up, and a further $2 for every lead generated. This program offers you one of the easiest ways to make money from leads.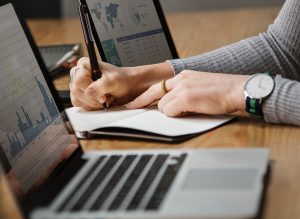 Let Us Grow Together
By launching this affiliate program, we look forward to renewing our commitment to our loyal clients and partners in their successful efforts to help us grow and expand.
We consider our relationship with our customers and partners to be quite valuable in collaborating, designing, and delivering reliable digital marketing services across Canada and other parts of the world.
As an affiliate program participant, you can manage your affiliate account, monitor your account status and track your success using our dynamic user dashboard.
You will also access a wide range of marketing tools including banners and textual links to help you share our products and services with your audience.
Our campaign-specific links and promotional banners come with built-in tracking codes that will help you monitor your commission earnings in real-time.
Why Should You Join Our Affiliate Program?
We are here to help you grow and make you feel part of our larger family. One of the top reasons why you need to join our affiliate program is that we offer you a real opportunity to monetize your website and earn high commissions.
All you have to do is signup to join our affiliate program and start to make money from leads. You will also choose how you want to refer us to your audience; either through promotional banners or textual links.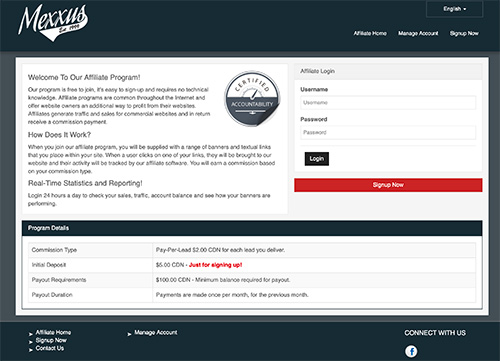 Our affiliate program will help you enjoy the best of both worlds by earning on your referrals and also helping other people become more self-sufficient. The signup process is quite easy, and one of our experts will be on standby to help you just in case you want to know something.
How Does Our Affiliate Program Work?
Once you sign up, you will access a wide range of promotional banners and textual links that you place on your website. When a user clicks on your affiliate link, they will be redirected to our site and their activity monitored by our affiliate software.
The amount of commission that you earn will be based on your commission type. Get $5 just for signing up and watch your commission revenue start to grow within no time.
About Mexxus Media Agency
Mexxus Media Agency is a Canadian based media marketing agency established in 1999. We are a team of experienced professionals who are dedicated to providing top-class marketing solutions to help businesses grow. Our targeted marketing solutions are reliable and tailored for any size business.
Our core services include web design, web hosting, domain registration, online marketing services, printing, graphic design, commercial photography, AI applications, and promotional items.